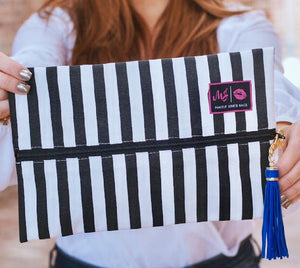 The Glam Stripe Bag is a black and white stripe fabric and has a leopard wipeable interior design. Our designers ensure that each handcrafted Glam Stripe bag comes with onyx colored zippers and brightly colored tassels. 
*Each Makeup Junkie Bag comes with designer, moisture resistant, interior liner*
Available in Four Sizes:
Large 9.5x13
Medium 8x11.5
Small 7x9
Mini 4x7
Care Instructions: Machine washable on cold, remove tassel before washing. Lay flat or hang to dry. Do not use iron
Note: Bags can vary up to 3/4 in size due to fabric density. Tassel colors may vary from picture on each bag.